Barbara enjoys speaking on a number of topics related to her book,  A Love Affair with Life – A Compelling Look at Choice and Change. 
Warm and welcoming, Barbara is passionate about sharing a unique perspective on ordinary concepts that may well impact those deeply desiring to take action for a more rewarding life—a life of their own choosing—with no harm to others. She has great respect for those wanting to develop themselves for greater effectiveness and life enjoyment in work, love, and play.  You will find her enthusiastic in delivering engaging, thought-provoking, informative programming and skill building guidance as she maintains that most people welcome feeling better about themselves.
Barbara holds a Masters in Management from John F. Kennedy University.  She is a Professional in Human Resources, a Certified Worksite Wellness Specialist, and a Certified Health and Wellness Coach.  She is founder and president of Life Is Action, Inc., a crucial communications company that supports accurate expression and furthers open and continuing dialogue.  A storyteller, educator, and social observer, Barbara is a passionate advocate for a love affair with life.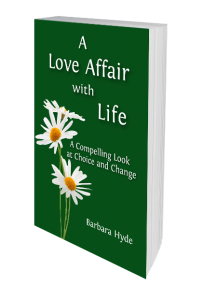 A Love Affair with Life-A Compelling Look at Choice and Change is her first book.
Speaking Topics
Barbara can tailor a presentation specifically for your group or an event theme, or you may prefer to choose one listed below:
The Leader in You:  Essential Leadership Qualities that Transform Lives
On Relationships:  Love is a gift
Meeting Your Best Friend…Yourself
Employer/Employee Relations…The better fit – whose responsibility is it?
On Parenting:  What do our children really need to thrive?
For inquiries or to schedule Barbara to participate in your event or program, please email a note to BarbaraHyde@LifeIsAction.com
Past Engagements
The Leader in You:
Essential Leadership Qualities that Transform Lives
Do you want to become more capable–better equipped–with the necessary life skills to turn your desires into action?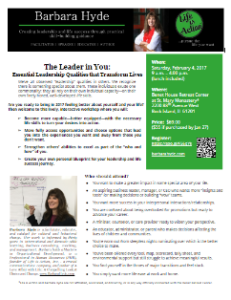 When:  Saturday, February 4, 2017
9 a.m. – 4:00 p.m. (lunch included)
Where:  Benet House Retreat Center at St. Mary Monastery*
2200 88th Avenue West, Rock Island, Il  61201
Price:  $69.00 ($55 if purchased by Jan 27th)