Haven't we been shouting at ourselves long enough?
Has it ever led to lasting change or an easier, more rewarding life?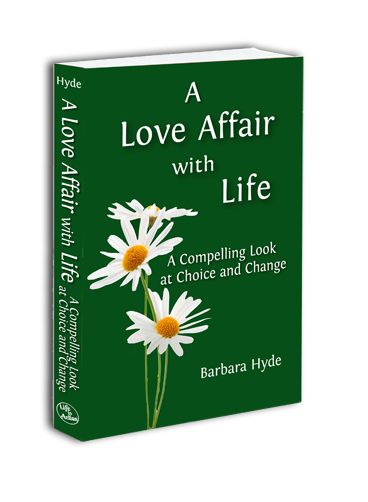 In this captivating and thought-provoking book, Barbara Hyde gently, and yet with no holds barred, weaves together engaging stories, arresting observations, and insightful commentary for a compelling look at what keeps us from experiencing the life we truly desire.
Not a prescriptive "how-to" book, Hyde makes no claim to know more than you do what's in your better interest.  Rather, she illustrates how choices made from mistaken notions can set us upon a road of confusion, self-doubt, and loss of freedom–keeping us from making better decisions.
From relationships and parenting to the workplace and lifestyle choices, Hyde captures her readers' attention and curiosity through the fascinating challenges of ordinary people in their universal struggle toward a more rewarding life. We witness her characters become their own best experts as they, with fierce honesty and often only small steps of action, confront the reality of their chosen lives that have them now feeling stuck, stressed, overwhelmed, or simply out of sorts.
A Love Affair with Life offers a foundational shift in how we view our lives. Called into question are conventional wisdoms and self-help strategies designed to manipulate, cajole, convince, and connive ourselves and others to get what we want. Hyde observes, "Many of us find ourselves tethered to convention, ill-advised sayings, concerns for image, or to the prison of promises made but no longer desired—that keep us stuck—and that presume to suggest 'trying' isn't good enough."  Through her stories, her characters present a view of self-reliance and personal responsibility that challenges the status quo of a society overly constricted by social mores and proper protocols, faux science, seemingly inconsequential habits, and life compromises made in exchange for abdicating responsibility for choosing what is or is not really wanted.
Can life be easier, better, and more satisfying than it is? Hyde says "yes," that life doesn't have to be limited—that decision making and taking actions for change are life skills that can be developed. Readers observe this in action as they watch her characters recognize that the pursuit of the life they want—their true desires—is really a pursuit of themselves.
A Love Affair with Life is a genre-defying, culture-shaping creative work that combines science-based realities, common sense, and optimism. Readers are invited to consider a unique perspective on life as they come to trust and prepare themselves to bridge the gap between their current chosen life and the life they truly desire.
**Barbara invites her visitors to access Chapters 1 and 2 from the home page as well as enjoy her gifts of "gems" from the book.